राजीव गांधी स्टूडेंट करियर पोर्टल
Here we going to share the information on Rajiv Gandhi Career Portal Rajasthan Registration and Login Process. The Rajasthan government has launched the Raj Career Portal for the good education of all state students. Using this portal students from 9 to 12th standard can get all the information related to examinations, scholarships, and employment.
Here you can find the Rajiv Gandhi Student Career portal registration process, login id, student unique id, shaladarpan id, student's school registration number, higher education, various careers and how to use it, etc.
Raj Career Portal Details
This Portal has launched on 6th February, 2019 by Education Minister Shree Govind Singh. The Rajiv Gandhi Career Portal is an collaboration with UNICEF. Raj Career Portal is helpful for every student to get best data about entrance exam, scholarship, and other course which going launch by Rajasthan government.
Overview of Rajiv Gandhi Student Portal 
Name of Portal
राजीव गांधी करियर पोर्टल
Launched by
Rajasthan Government
Launched date
6 February 2019
Academic year
2022-2023
Beneficiaries
Students of 9th to 12th Standard
Benefits of scheme
Providing Career Guidance & Future Job Opportunity
Official website
https://rajcareerportal.com/
https://rajshaladarpan.nic.in
How to login in Rajiv Gandhi Portal?
You need Unique ID to login the Raj Career Portal. Every student need unique id and password to login Rajiv Gandhi Career Portal. However Here are some step to Follow.
How to get Student Unique ID & Password ?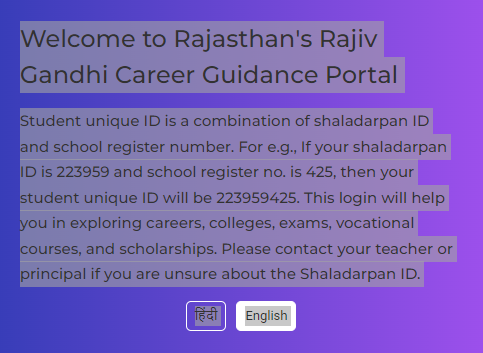 The User ID for Portal made up from shaladarpan ID and School Register(SR) number. you can get your Rajiv Gandhi Career Portal Unique ID from your School. Secondly, Password will be set as 123456, but you can change it after logging in to portal.
Login/ Registration in Rajiv Gandhi Career Portal 
In this Paragraph, we going to show you step by step how to Login/ Registration in Rajiv Gandhi Career Portal. Only student of Rajasthan can login into portal. before go to following step get your Unique ID & Password from School/Principle.
Now Enter your Unique ID which you get from your school
Next enter the password "123456", and Click on "Login" button.
Now you will see dashboard where you can get all the details of career, entrance exam and many other information.
Rajiv Gandhi Rajasthan Career Mobile Application
राजीव गांधी करियर पोर्टल ऐप : The Rajasthan Government launch the Rajiv Gandhi Portal Application for Mobile User. By Using mobile application every student of Rajasthan can easily take advantage of the career guidance app by easily login into their mobile.
How to download Rajasthan Career Application :
First go to play store and search " Rajasthan Career App " in the search bar
Choose the first app and click on download
After completing down loading click on Install button
Finally, all process completed you now use राजीव गांधी करियर पोर्टल ऐप in your mobile phone.
Also Check :
So, Hope you get all information Rajiv Gandhi Student Career Portal, how to login, how to Register, Mobile App and other many more thing using above article. if you have any quires related to "राजीव गांधी करियर पोर्टल " then comment down below and also share this information with your friends so they can login Raj Career Portal and take advantage of it !