Aadhar eKYC Shiksha Portal MP 2023: Madhya Pradesh School Government recently shared a notification that all the students from classes 9 to 12 have to complete their EKYC on the Shikshaa portal. student's who have done ekyc will get their scholarship into the account which is linked with Aadhar. so here we share all the details on how to do ekyc shiksha portal mp.
As we know ekyc is mandatory in every field, so the MP Government took a one-step forward decision by making the compulsory ekyc shiksha portal so that the right student can get their scholaship wai bank transfer.
Step for eKYC Shiksha Portal Madhya Pradesh
Here we share step-by-step details about how can a student do ekyc in the Shiksha portal.
At the Homepage of the website you will find an e-KYC Option at right top Corner, Click on it.
After the new Page is open, you have to enter your mobile number and Captch code to complete the Aadhaar eKYC Process.
Now you will receive an OTP into your registered mobile number, Enter that 4-digit OTP and click on the "Submit OTP" button.
Now, a New Page will open, where you have to enter your 9-digit "Student's Samgram ID" and enter Display Image Code, then click on the "Student Information" Button.
in the New Page, you will find your student information, Confirm your name, and Click on the "eKYC" button.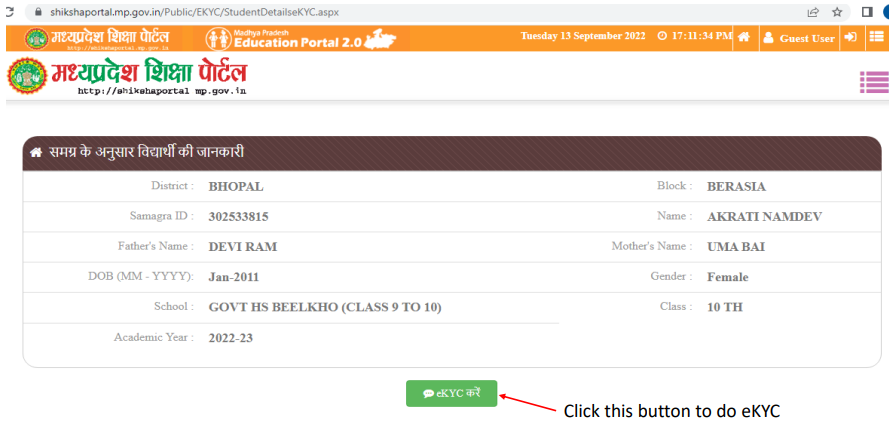 Now New EKYC Page will be open. You have to do the following steps:-
First of all, the User needs to select the Consent Checkbox to Conduct eKYC.
Then Enter your 12 Digit Adhaar Card Number in Both boxes.
Now click on "eKYC through OTP" where you will get OTP on your Mobile which you linked with your Adhaar.
you can also choose the second option "eKYC through Biometric" where you can complete KYC using a Bio-Metric machine using a student's finger.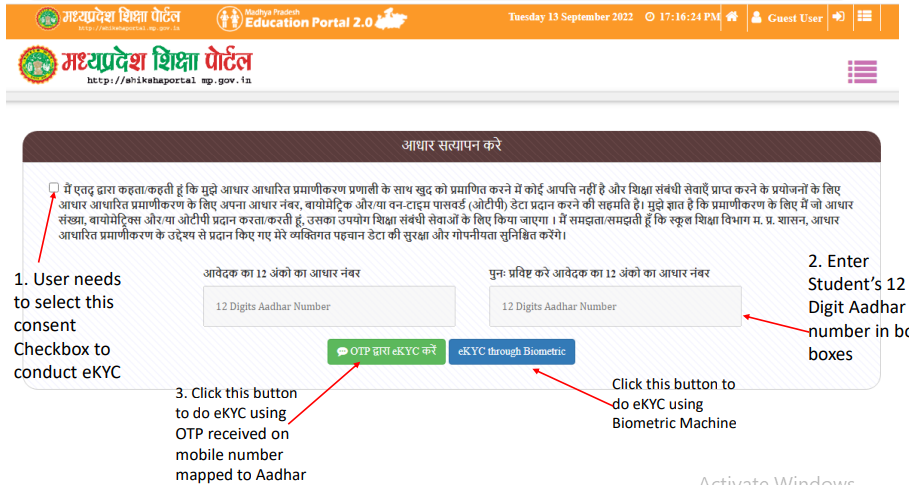 Now, the Next page will open where you have to enter 6 digit OTP and click on "Validate OTP"
Now New Page will open, where you can find your all information regarding Aadhaar Details and Student Information.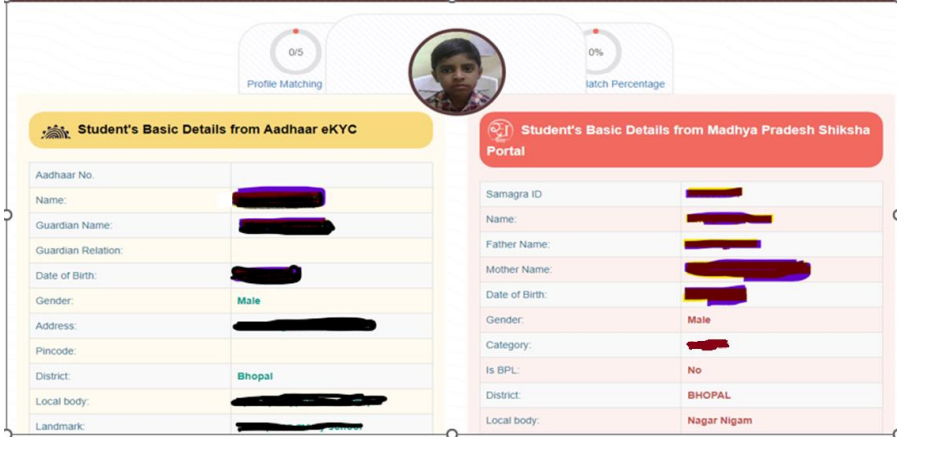 At, the last click on the "Complete E-KYC" button to finish Adhaar keys on Shiksha portal.
Once you complete student eKYC on shiksha portal, your application forwarded to the School for review.
Students Who not Complete their eKYC will be displayed as Pending on Portal.
Teacher Login Student Approval Process
Here we share details of Approval process of student's eKYC shiksha portal.
The School Admin/HM/Principal or Teacher will review the students details, they can update "Student Profiles" if required.
After Teacher successful login, eKYC approved students list can be seen on Shiksha Portal using link.
Here you have to Select Academic Year, enter captcha code and click on "Filter" Button.
Student who done eKYC Process are listed in "Approve" Process, Teacher or User can review it and Aprrove it by clicking on "Approve" Button.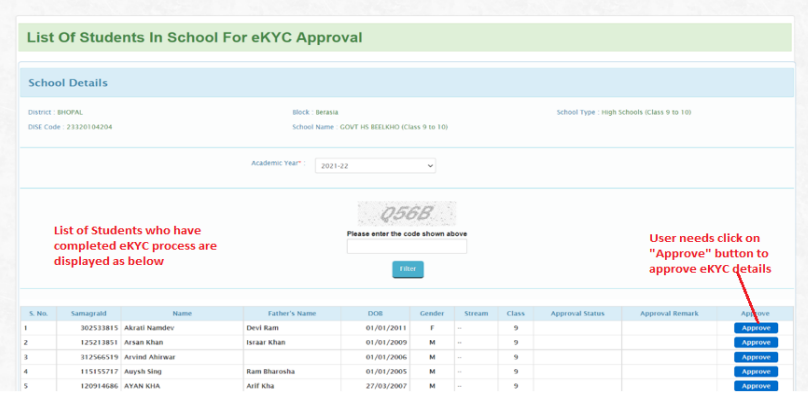 After Clicking on "Approve" Button new page will be open, where user can see all the details of the student.
User can Update the Student Profile and Approve or Reject ekYC with Remarks.
Student who get Approval from User, only they will get Scholarship from Government.
Hope, you will now understand how you can update Aadhar eKYC Shiksha Portal MP 2023. If you have any queries regarding the Student eKYC then comment down below. we will try to connect with you as soon as possible.