Agneepath (Agnipath) Scheme 2022 : Now a days all you know about the Scheme which talked about a lot in news and it's a opportunities to youngster further push. The Union Cabinet Committee taken a historic decision to approve the scheme – 'Agnipath' . Agneepath Yojana is Opportunity to serve the Nation as Agniveers through enrolment in the Armed Forces.
आत्मनिर्भर और सशक्त भारत के सपने को साकार करने की दिशा में देश के युवा एक महत्वपूर्ण भूमिका निभा रहे हैं और इस दिशा में अग्निपथ योजना उन्हें एक कदम और आगे ले जाएगी। सशस्त्र बलों में शामिल होने और राष्ट्र की सेवा करने के उनके सपने को पूरा करने का यह एक सुनहरा अवसर है।
Agnipath Scheme Datails – Latest Updates
You can find Agnipath Scheme Notification in Government Official Website which link we shared Below. Indian Air Force & Indian Army force both released recruitment notification in their Websites. so this is golden opportunity for Indian youth to become ' Agniveer'.
The Ministry of Home Affairs (MHA) said it has decided to reserve 10 percent vacancies for recruitment in CAPFs and Assam Rifles under this Agnipath Yojana.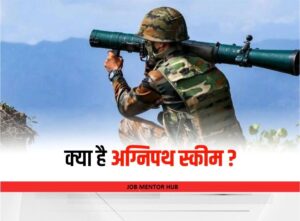 AGNEEPATH SACHEME 2022 
>>>  Age Limit – 17.5 to 21 years
>>> Annual Package –   1st year package approx Rs. 4.76 lacs.
> Upgradation upto approx Rs. 6.92 Lacs in 4th year.
>>>  Seva Nidhi  –  30% of monthly emolument to be contributed by individuals.
>Corpus of approx. : Around 12 Lakhs Rupees.
>>> Death Compensation :-  Non contributory life insurance cover of Rs. 48 Lakhs.
>Additional Ex gratia of Rs 44 Lakhs for death attributable to service.
Download All Information about Agneepath  Scheme 2022 Booklet
>>> Agnipath Agniveer Scheme Booklet                >> Click Here <<
Agneepath Scheme 2022 : FAQs
Q1: what is qualification for Agnipath Scheme?
Ans: The Student Who Passed out 10th, 12th  Exam or Have an Diploma/ITI Degree can Apply.
Q2: is Agneepath Scheme for Girl?
Ans: Yes, Agnipath Scheme also for girl who are eligible.
Q3 : What is Agneepath Recruitment Scheme 2022 ?
Ans: Age between 17.5 to 23 year can Apply for this Scheme. Main Initiative is Scheme have 4 year job placement with training time.
Q4: What is the financial package in this Agnipath Scheme ?
Ans: 1st year package approx Rs 4.76 Lacs with Upgradation up to aprrox Rs 6.92 Lacs in 4th year.